Dream Signs with Pictures.
Carbie Playa Beach Resort
This is famously the first dream sign that I ever Identified as being a dream sign. It is the beach resort that my family stays at every year when we go to puerto rico. Unfortunately, it seems as though most dreams of this location I will either arrive already lucid or never think to reality check.
I also notice that usually upon visiting the place in my dreams, I find that it is larger/more developed. I often see a large glass enclosure restaurant quite often. Sometimes I find that the beach has been polluted, and that I am cleaning.
This dream sign can sometimes generalize to any beach/tropical location, though I use this resort since it occurs (guessing) 50% of all dreams will take place at it, or a location extremely similar to it. I have dreamed of a variety of different beach and island locations.
Why I dream of this:I used to think that it was simply because I liked being at this place, but I think there is a little bit more to it than that. This is where my first LD took place, and I seem to have a connection to the place and return to it quite frequently.

The exact resort. If you read my first LD, you're looking at the part of the resort where I first met my dream guide.
Sand Dunes
This was another dream sign that I noticed fairly early on. I found that it would blend in nicely with the previous dream sign, because beaches are sandy and so are sand dunes. Though sometimes the sand dunes I see are just there without a beach in sight. I find it similar to when my parents drove me to northern Michigan when I was a kid and the soil was sandy and there were huge sandy slopes in the middle of the forest. I suppose it could simply be generalized as sand in any context.
I sometimes find sand inside of buildings or in a sandbox or something. Like most dream signs it doesn't fit super well into one particular box.

Why I dream of this: I can't say so for sure. It could just be 'runoff' from beach themed dreams.


Results may vary.

Big waves/Drowning
This wasn't the first dream sign that I picked up on when learning to lucid dream, but it was one of the first that I had as a child. It basically goes as such: I am in a lake or ocean or sometimes even a pool, and tremendously large waves are coming down on me, as though they are attempting to drown me. I've been having these dreams rather frequently since I was a child. I sometimes find that the waves have odd shapes such as being completely vertical or square.
Why I dream of this: I don't know to be honest. Other people who interpret my dreams believe the waves to be symbolic of something else, since as a child, I loved to play in the water/waves whenever my family went to the beach, and drowning isn't one of my fears, since I am a good swimmer. Granted, the waves that I often dream of are easily big enough to be dangerous.
This picture looks frighteningly similar to how this dream actually looks most of the time... Right down to your POV being just above the water.
Overly green/lush plant life
This one is quite common in a wide variety of environments. I've seen it take over familiar environments such as my own neighborhood or town, or sometimes outside environments that I do not recognize. And, as the title suggests, the plant life takes on an unreal quality of vigor and clarity, often being more vivid than other elements of the dream around it. Sometimes the plant life doesn't have grounds in reality.
Why I dream of this: I can't say so for sure. I've never been particularly interested in plant life. It could be reminiscent of El Yunque (The rainforest from Puerto Rico) or the other tropical environments that my dreams are trying to portray.
You see how it looks like someone was playing with the saturation slider...
Fog/Clouds/Storms
This one goes hand-in hand with the previous dream sign, and I often see the two of them together. There is a logical association between the two. Lots of rain and humid weather is good for plants and can cause them to grow. But it can exist independently. I pick this one out not so much because I find that it occurs in my dreams a lot, but that it seems like the weather is exceptionally vivid in comparison to other elements of the dream. I don't get a lot of rain surprisingly, but there is a lot of thunder/dark clouds, as if there is always a storm brewing.
Why I get this: I don't know for sure. As a child (1st grade ish), I went through a phase where I wanted to be a meteorologist or storm chaser, but I've moved past that long ago. There might also be association with Puerto Rico in the lush plants and moist conditions are not unlike the rainforest we would visit when we traveled there every year.
Giant wall cloud harbinger of doom. Sounds about right.
This reminds me of them dreams that take place in my neighborhood.
Manei
I've talked about this one before, how I actually made my dream guide into a dream sign, because she occurs in my dreams more often than most. As for why I associate her with the other dream signs involving my family going to Puerto Rico? In her character she was born and raised on a tropical island. I find it very odd how sometimes I can be talking to her, but not actually be lucid.
Why I dream of this: Manei's frequent appearances were justified by her as simply doing her job as a dream guide.
Being a character in a movie
This is a very unusual dream sign, because I actually consider it a layer of lucidity above being a simple non-lucid dream. The dream sign being that I find myself being aware that I am a character playing out a story, acting in a movie, on a reality tv show, inside a virtual reality simulation, or in a book. Because of this, my take on the world is often different, in that I am aware that what I am experiencing is fake, but not in the sense that I am aware that it is a dream. In the case of the virtual reality, I often find that it is a sandbox style game where I am free to roam and experiment rather than having a specific objective.
Why I dream of this: Being a writer who works on comic books might account for some of it. I never considered a career in drama/acting, and, from what I've experienced in arcades and demos, I'm actually not very fond of virtual reality, I find it disorienting and difficult to navigate. My best guess is that it is actually semi-lucidity making its way into more of my dreams.
Space Travel
These next four dream signs all go very well hand in hand, but I've noticed specific themes from all of them. These dreams generally involve space travel, with some element of science fiction involved. They often feel like realistic or near-future spacecraft and actual experimental technologies. (For example, referencing several countries working together to build a spaceship that uses ion engines to go to mars.) I've had these dreams since I was a young child. I used to get a lot of going to the moon as a child, but recently, I seem to be getting a lot more mars missions. Though any dream that involves spacecraft launching, docking, orbiting, traveling or landing counts toward this dream sign.
Why I dream of this: I always figured it had something to do with how dreaming and space travel are similar in the regard that they allow exploration of something that is unexplored. (In lucid dreaming you explore the depths of your mind, in space travel you explore the depths of the cosmos.) I also recognize that

Solar System Tour
This dream references another specific dream situation. I find myself having a dream where I am viewing an alien solar system and being taught the names and positions of all of the planets by some entity. Upon awakening, I have generally forgotten a great deal of what the entity taught me, only having a basic memory of the layout of the system. (Suns, major planets, etc.) Generally speaking, the solar systems have fairly logical and realistic organization, but I have seen weird things such as black holes and stars that are green/purple/black/ or other unnatural colors.

Why I dream of this: It is one of my more cryptic dream signs, and I am unsure why these dreams occur.

Dream Skies
This references all of the strange occurrences I see in the sky, including but not limited to seeing multiple suns or moons. This has caused me to become lucid on more than one occasion. However, I sometimes see even more exotic phenomenon; for example, the rare occasions where there is simply a massive gas planet filling up half the sky or a swarm of unique moons. This can overlap with the solar system tour.

Why I dream of this: This might be from the other dream signs about space and planets/stars leaking in. Therefore, I assume that my tempered interest in space and science fiction causes this one to occur as well.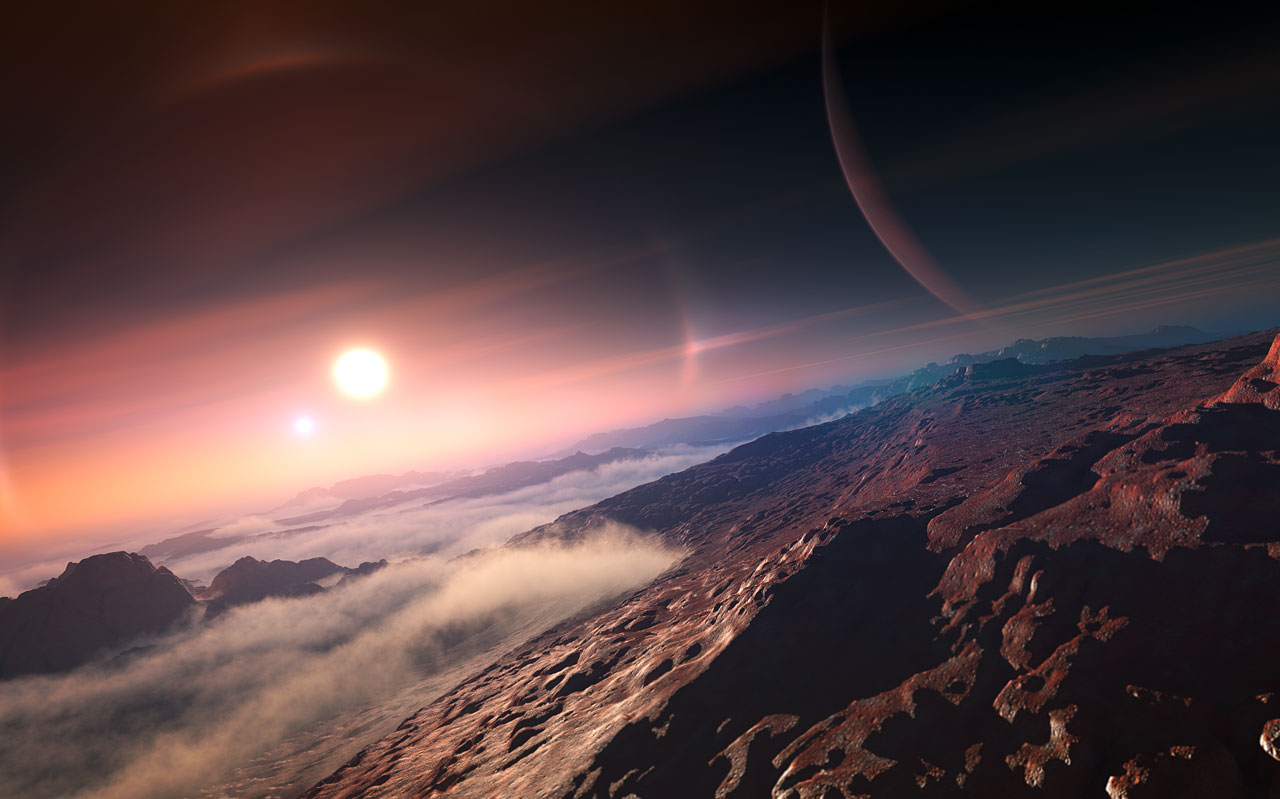 Two suns. Huge crescent of a gas giant hanging in the sky. Sounds about right.
Aliens/Extraterrestrials
While this one does not occur quite as often as the other dream signs in this middle layer, contact with extra-terrestrials is common enough to be listed. It ties in with the other dream signs involving spacecraft and near-future travel. A healthy fraction of the time, the extra-terrestrials are hostile, though this is not always the case. I find this one tied in a lot with the 'living a story' dream sign.

Why I dream of this: Same rhetoric as the other dreams involving outer space. It is probably simply due to my fascination with the subject and the idea of contacting a race of aliens.
Breaking my computer
This one requires basically no explanation whatsoever. I often dream that I have broken my laptop computer.

Why I dream of this: This occurs probably because I dropped my laptop once in real life and lost all of my data because my computer was broken...
Middle/High School
The funny thing was that in middle school, I dreamt of high school. I still dream of it now, being in college. The dream generally has some excuse that I forgot to take a class or go to graduation. I seem to get a lot of the gymnasium for some reason.
Why I dream of this: Probably just temporal dissonance, disconnects between past and present.
Ski Resorts
I often dream of being at a skiing resort. I find this a stark contrast to my dreams of being on the beach or in a tropical location. I also find that the ski resort often has a confusing layout and/or a lot of chairlifts. I don't know why this a recurring dream though. I did my share of skiing as a child, but it never lead to any particularly impactful moments.
Family Fight
(Depreciated, no longer have this one)
Like most families, mine has fights, and I often find myself skipping these dreams when it comes to journaling them here. Sometimes, the fights can be about something stupid and meaningless, just like in waking life.

Eating Contests/Big Food Items
(Depreciated, no longer have this one)
This one requires little explanation. I dream a lot of DCs eating large amounts of food and participating in competitive eating events. Sometimes, like in a cartoon, their stomachs will get really big and round. Generally, I am not a participant, because, like in waking life, I tend not to have much of an appetite. This dream sign could occur because most of my friends are big foodies, though.
Swords
(Depreciated, no longer have this one)
I used to dream of this one quite frequently, but it is what I consider a dormant dream sign. I used to wield a sword a lot, lucid or not.
Roller Coaster Disaster
(Depreciated, no longer have this one)
I used to often dream that I was riding a roller coaster without the restraints properly tied down. I would be hanging on for dear life, and often flung off the coaster at high speeds, sent flying across the theme park at high speeds and smack into the ground.
Missing Sister
This one occurs very rarely but I've always had it since I was a small child. The dream takes on a wide variety of plotlines and variants, but it always seems to center around the concept that I have a sister that I have not known about or met until now. Sometimes she was seperated from me at birth. Sometimes she was overseas and I haven't seen her since I was little. Or sometimes she died during birth. There are many variants on this plot.